Welcome to GO 4 IT DRIVING SCHOOL
Quality Manual Driving Lesson´s


We are committed to driving excellence.
Simon Lee is a Grade A driving & vehicle standards agency (dvsa) approved driving instructor with over 20 years experience. He is a member of the ADI National Joint Council.
Find out more about me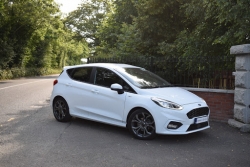 The tuition vehicle is a Ford Fiesta ST Line. It is by far the easiest and most comfortable car you could wish to drive in. All my pupils love it.
We pride ourselves on offering patient and friendly lessons with a strong emphasis on enjoyment and keeping lessons fun, while at the same time working hard to ensure all lessons are taught in an easy, uncomplicated way, - keeping it simple. It is our goal to make sure you gain maximum learning potential out of each and every lesson.
Every pupil will receive a link to download an app. The app contains, progress reports, driving lesson schedules, test info, financials and much more.
Driving lesson times are very flexible. I can start from 6am (very popular for those wanting lessons before school, college or work)
We understand achieving a full driving licence is expensive so we will ensure you move forward every lesson to make your learning as cost effective as possible. Every year most of our pupils pass with around 15 hours less tuition than the national average. This alone is a huge saving, along with our regular special offers GO 4 IT Driving School truly offer outstanding value.
Pass your Test with our cost effective, structured syllabus Go 4 It Driving school has an excellent pass rate (well above the national average). GO 4 It Driving school will develop a training plan to ensure you pass in a relaxed, hassle free and cost effective manner.
We have the same target as you - to pass your test first time
Why should i learn with GO 4 IT Driving School?
I qualified as a driving instructor in 2000. I have many years experience, patient, friendly and reliable. My first time pass rate is one of the highest in the country, something i am very proud of. I own and run the driving school. You will only be taught by me, Some schools will have different instructors with different cars teaching you.
Are you a qualified instructor?
Yes. In order to conduct driving lessons on a professional basis, all instructors must be registered with the DIA. I am a DVSA registered Grade A driving instructor with over 20 years experience.



Some schools use ´PDI´s (practising driving instructors). These are registered instructors but who have not yet passed the final part of their instructors test. These will display a pink triangular sticker in the car window.



I am a fully qualified instructor and as such, display a green, hexagonal sticker in the car.
What vehicle will i be learning in?
Manual 6 speed Ford Fiesta ST Line. I have had many different driving school, cars over the years, however i can say with certainty the Ford Fiesta is by far the best driving school car. Very comfortable for all sizes and easy to drive.
There are many factors that determine how many lessons you will end up needing. Age, gender, attitude, personality and the ability to practise when not in lessons all contribute. Our pupils pass with less driving lessons than the national average.



Once you have had a few lessons, we will be better able to judge this for you.
Payment must be made on the driving lesson or in advance. You can pay by cash or card.
How will I know I´m ready to take my test?
We will keep track of your progress, this is also visible in your App, and discuss this with you as appropriate. We will let you know when we feel you are ready to start thinking about booking a test.